This article was first published in The Deesider – July 1970
What has Frodsham in common with Cowes, Lords or even Twickenham? They are all headquarters of sport, and believe it or not, this Cheshire village has become the home of Britain's newest sport.
In March, on a disused stretch of the Weaver, shunned by fishermen because of its high pollution content, power dinghy enthusiasts gathered to stage the first ever race in this country.What began as a publicity stunt for a marine engineering firm from Frodsham introduced this exhilarating type of power boat racing to Britain. It is already a highly popular sport on the continent especially in France and Italy.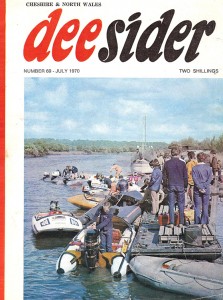 Mike Pilkington, the 34 years old head of the firm (another William Webb Ellis?), said, 'I didn't realise what we had started. There was so much enthusiasm about it.'
The Weaver Sailing Club, of which he is a member, soon organised a power dinghy section—one of the only sailing clubs in the country to have one.
As the sport spreads throughout the country, Michael believes it could end the
rift between sailors and power boat men.
The second event took place at Frodsham on Whit Monday and attracted entries from all over the country, including London and Poole, in Dorset. The races involved two one hour runs and the winner is the man, or woman, who completes the most laps. One winner travelled 73 miles in his event. The joy of the sport is that it brings power boat racing into the reaches of ordinary people. Anyone who has an inflatable dinghy can race.
A big off shore power boat such as John Kennerley's Maltese Magnum Twin, the Wirral boat which went aground in last year's Round Britain Race, can cost thousands of pounds. Next in line come the power boats which are raced or circuited, inshore, mainly on Chase Water in the Midlands.
These are expensive craft costing between two and five thousand pounds. But the new inflatable outfits range from £250 to about £800 with engines in all classes between 175 cc and 850 cc. Taking the smallest craft, the engine can cost £170 and the boat £80. They are capable of 17-20 mph and are Well in trophy winning range.
For those not of a competitive nature the craft can be used for pottering about on holiday, fishing, or even pulling water skiers. With an average length of 12 feet they can be dismantled, packed and put on a mini's roof rack and taken on a day's outing.
Racing the boats looks exhilarating and to the layman even dangerous, but an inflatable craft has inherent safety. The only dangers are hitting something solid or falling in front of an approaching dinghy and being hit by the engine. Colliding with another craft produces a dodgem car effect. Anyone who competes in a race has to wear a crash helmet and a life jacket and use an ingenious safety device. The driver is attached to the engine by a jack plug and if he is thrown overboard it cuts out the engine.
On Whit Monday, a grandfather who travelled from Poole had his boat overturn on top of him to no ill effect. Speeds are limited in dinghies. There is much more skin friction than with a fibre glass or wooden hulled craft which keeps it down. Manoeuvrability is an essential with them and too high speeds would prevent this. Next year there is a possibility of international events at Frodsham and even an attempt at the dinghy world speed record of 52 mph.
Remarkable that a mere publicity stunt has finally put Frodsham on the sporting
map!
Perhaps we need Mike to start something similar on the Teign Estuary? He has the pedigree for attracting people on to the water…