Following her exploits at sea with the round the world racing clippers Karen came to earth with a 'splash' and joined a fishing vessel to travel almost 50 miles out before tangling with the big cod fish.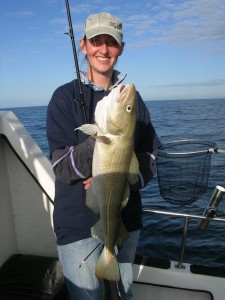 When you are that far out, reliable engines and transmissions are essential. Not much fun in a drifting boat with a few cod for company.
Fortunately, this vessel is in first class order and the machinery never faltered, adding to a great day's fishing under a clear blue sky. Good old ZF, a real fishermans friend!!
*The staff and friends are still eating the catch, if you ever turn up at the Pilkington Marine HQ you may well be offered some Thai Fish Curry from the proceeds.