The Shearwater is a long term refit project for Pilkington Marine.
It took a year for Southampton University to work out whether the hull of the shearwater would be up to the task of putting down the power of the new powertrain.
The old engine was the VW TDI 225-6 Diesel Engine that gave a top speed of 13 knots. With the new power train installed Cummins QSB 6.7litre 480hp @ 3300RPM driving a ZF gearbox (85A) with a Gold Line Michigan Prop 26×30″ pitchwe are expecting a top speed of nearly 30 knots.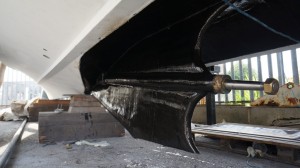 Above you can see the carbon fibre mat wrapped keel before it is finished off. (more pictures to follow) 
The custom install of the new drive train setup includes a carbon fibre mat wrapped around the keel and prop tunnel. Carbon Fibre (Bi axel) is now coated with 7 coats of gel protect, then an underwater primer before finally the anti-foul is applied. If looked after this finish should last a lifetime.
Above you can see the a close up of the keel edge – 7 coats of Gel Coat still to go!
The new engine will be fitted next week, as will the ZF Gearbox, and on the run up to Christmas the boat will be in the water for testing. As she progresses we will post more updates to this blog showing our progress.
Progress Report
Karen has now keyed the Carbon Fibre keel ready for the first of the Gel Coats. The Gel will only bond properly with the surface if this is done correctly.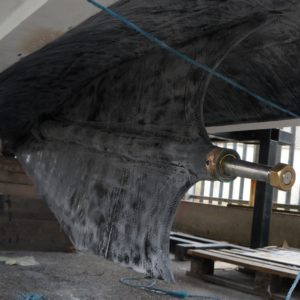 You can see the other end of the prop shaft in the above photo. Below you can see the custom chrome end of the prop ready to fit to the drive train within the engine bay (if a job is worth doing, it is worth doing properly)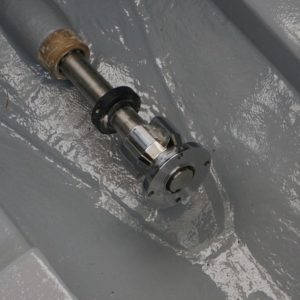 Next, a view of the whole of the engine bay, gel coated and prepped ready for thecummins marine drive train.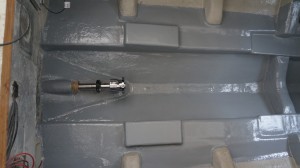 We have the Cummins QSB 6.7litre 480hp @ 3300rpm sat ready to be installed into the engine room. This is a brand new power unit, we haven't even fired her up yet, as it has been dyno tested by Cummins at the factory.