ZF Marine Transmissions are manufactured to the highest standards, and if correctly maintained offer years of trouble free operation.
Lack of proper marine transmission maintenance and neglect are major causes of transmission failure.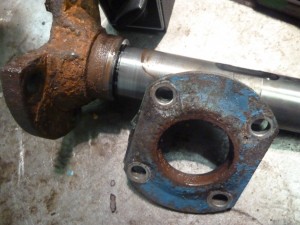 SALT WATER
Highly corrosive and works away at wrecking surfaces which it may have only briefly touched.
We see too many gearboxes which have damage to the output shaft bearing , seal surfaces and propeller shaft coupling which is directly attributable to salt water contact.
Keep water out of your bilge and away from your gearbox at all times.
FROST
Winter is here and the risk of frost damage to your gearbox is very real.
Some gearboxes have oil coolers bolted to them, some gearboxes have integral cooling passages and some gearboxes do not rely on heat exchangers to keep them cool.
If there is a gearbox water cooled heat exchange system of any kind fitted or integral to your gearbox there is a risk of frost damage during adverse conditions. Take precautions, inhibit the system.
ELECTROLYTIC ACTION
Some dissimilar materials immersed in salt water particularly, can produce electrical currents and over time these will erode cooling system components.
If you have anodes, check them regularly and don't skimp on changing them. A replacement tube stack is expensive. Check for visual signs of erosion and from time to time remove covers to inspect. Borescope where accessibility is a problem.
Act quickly if there are signs of electrolytic action, there will be a cause.
LUBRICATION
The specification for the recommended oil for your particular gearbox is there for a reason, be sure that the correct type is fitted, and change/clean the filter according to the manufacturers recommendations. Check regularly for lubrication leaks and if there, find the cause.
Catastrophic failure of your gearbox is vastly more expensive than a well maintained lubricating system.
COSMETIC
Who cares what it looks like so long as it works?? Think again!! A scruffy/ rusty gearbox tells you immediately that it is neglected.
How on Earth are you going to check all of the points we have raised if your gearbox is a ball of rust. Clean it up and keep it that way – Your life may depend on it!!
GENERAL
Check control cables and anchor points for wear and tear. Check hydraulic and cooling pipes for deterioration and leaks. Check clips and seals.
Anything unusual, get it checked out.
THIS ARTICLE IS JUST AN OUTLINE OF SOME OF THE PROBLEMS WE MEET ON A DAY TO DAY BASIS – SOMETHING NEW CAN REGULARLY OCCUR…
If it can happen, it will happen
IF IN DOUBT ABOUT ANYTHING ZF/IRM/HURTH GEARBOX RELATED. CONTACT US, WE ARE HERE TO HELP!