Pilkington Marine visited Princess Yachts in Plymouth to commission the ZF marine transmission setup. This was only her second trip out to sea.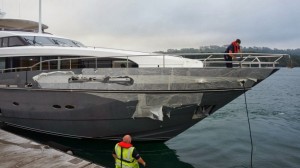 The ZF4650V marine transmission is a V Configuration Gearbox, allowing for the engines to face astern. The space saved can be utilised by the boat designers in many different ways. In this case the area is used as the crews quarters, giving them more comfortable living arrangements, as opposed to being jammed down the side of the engine/transmission setup!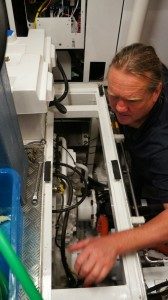 The oil pressure was checked both before and after the oil filters, under power, and at idle. Gearbox lube oil was changed to suit the destination of the vessel. 40 weight gear oil is used in hotter climates, 30 weight for the northern climes. The sludge drains were checked for debris, and found to be immaculate (as expected!)
Test unions with snap connectors were used to connect into the lubricating labyrinths, to gather exact data on pressure at all times.
The onboard alarms were fully tested by the disconnection  of the sensors on both the port and starboard engines.
(see the composite photos of both the alarm in on and off state on the computerised warning panels below )
The engine room onboard the M32 is an interesting place. You will see a pair of MTU 16V engines (2600hp each at 2500RPM) They have three turbos, and huge stainless steel exhaust manifolds. working inside this room without ear defenders is impossible, and with the warning alarms sounding it is even loud with these on!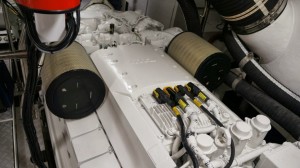 Walk past the power units and through another door you will find the Tiller Flat. Inside is the master fire extinguisher, and the climate control systems that keep the engine room temperatures down. Every system onboard this state of the art vessel can be monitored from the bridge, and remote cameras can see all around, from the stern to the bow, nothing is missed by the skipper. This really is a vessel for the 21st Century. Amazing.